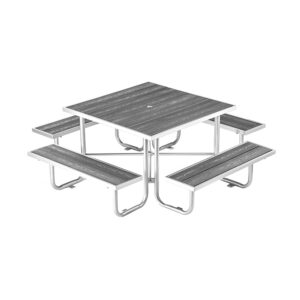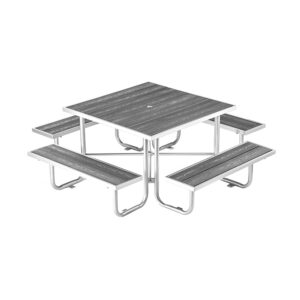 PT-02 is a renewed model of our classic, ever-so-popular picnic table PT-01
Table Top Size: 47.2″ x 47.2″ (120cm x 120cm)
Bench Size: 14.2″ x 47.2″ (36cm x 120 cm)
ADA Compliant
Composite Wood Texture
Galvanized Steel Construction
The frame is H.S. Steel Tube
Number of Seats: 4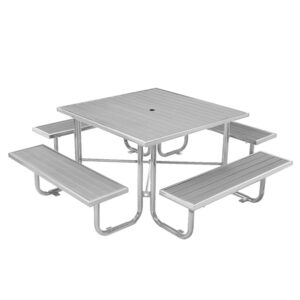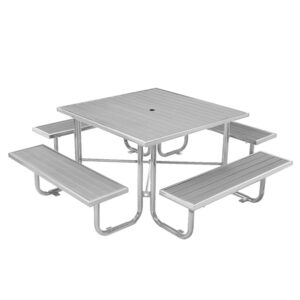 PT-01 is a picnic table with attached benches. The four seating platforms make this an ideal model for picnic areas.
Table Top Size: 47.2″ x 47.2″ (120cm x 120cm)
Bench Size: 13.4″ x 47.2″ (34cm x 120cm)
ADA Compliant
100% Recycled Plastic
Galvanized Steel Construction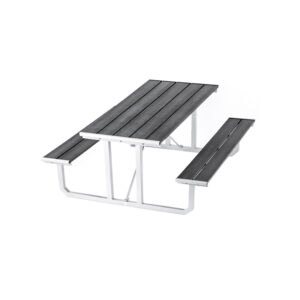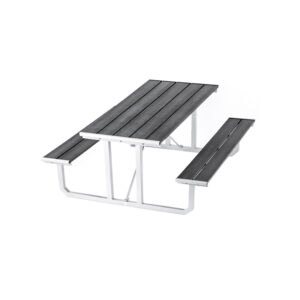 A long picnic table with wide slats and attached benches, great for outdoor time with family and friends. It is a low-maintenance picnic table that can be placed outside office buildings.
Table Top Size: 32.2″ x 72.4″ (81.7cm x 184cm)
Bench Size: 12.2″ x 72.4″ (31cm x 184cm)
ADA Compliant
Composite Wood Texture
Galvanized Steel Construction
Framing is H.S. Steel Tube
Number of Seats: 2